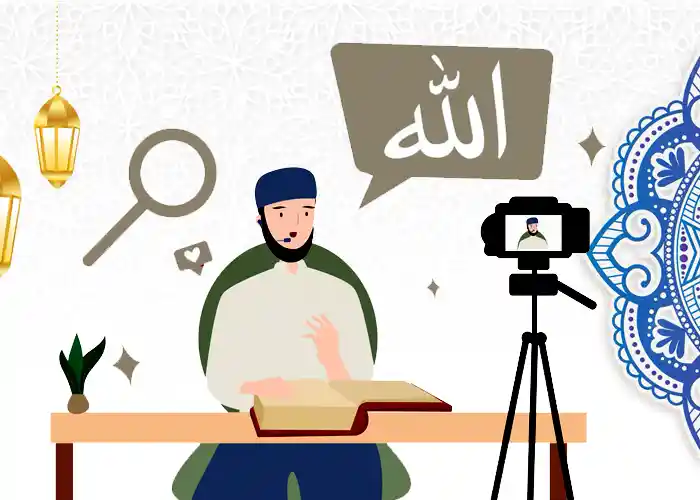 Teachers are one of the most important factors in the building of a civilized society. As it is said that teachers are not Kings but they make Kings. They teach how to rule and be a better person for society. It is the tutor who can alter minds. A good teacher will always carve his pupil's personalities in a way that will prove to be beneficial for society. A bad teacher on the other hand will also have the power to produce people who will negatively influence society. The term teacher encompasses all those people who teach you any life lesson. The first teacher of a person is usually his mother who taught him everything while being by his side all the time. Imamia Online Shia Quran Academy has qualified Shia Quran Online Teachers for both kids and adults.
Why do we need a good Shia Quran teacher ( Alim) in this era?
Allah sent prophets to guide people. Our Prophet Muhammad (pbuh) was the last prophet of Allah, because the chain of guidance should not stop, so our Imam took the responsibility of guidance. In the age we are in today, we are without a prophet. Our imams are also under the veil of backbiting, so how will we get guidance? At the bottom of it we find a very beautiful hadith of Prophet Muhammad (pbuh). When he started to leave this world, he said:
"I am leaving two precious things among you, a Holy Quran and an Ahl al-Bayt".
Now in this age either we should acquire enough knowledge to bring us to the teachings of Quran and Ahl al-Bayt or else we should find teachers who will guide us to the true path. Therefore, our academy thought that we should prepare our own team of Shia Quran Alim who will inform people about the knowledge of the Holy Quran as well as the teachings of Imams.
The position of Teacher in the light of Quran and Hadith:
Islam has provided you with all the pathways and guidelines that lead to a successful life via Quran. To interpret and elucidate the true meaning of verses of the Quran, the Holy Prophet was sent as a teacher to us. Learning and teaching Quran is obligatory for every Muslim. A Hadith narrates that:
" The best among you (Muslims) are those who learn the Quran and teach it."
Proper recitation of the Quran, its authentic Quran translation, and interpretation of its rules are all included in Quranic Teaching. A well-versed Shia Quran Teacher must have command over all the grounds or otherwise should be an expert in the one he teaches.
How Shia Quran Teachers Online play an important role in children's education?
After parents, a child learns in educational institutions under the supervision of Qualified teachers. Thus, the rank of a teacher is equal to that of parents in Islam. A teacher must be respected and valued highly according to Islamic teachings. Especially, the Shia Teacher who provides you with knowledge of the Quran should be highly esteemed. A Shia Quran Teacher is not only someone who teaches you theoretical knowledge from books but also enables you to read and understand in different languages. The role of a Shia Quran Teacher Online is quite vast. He imparts and inculcates his wisdom in his pupils. He teaches you knowledge of Shia Quran which will help you in long run. Students must memorize the lifelong Quran lessons of teachers. Teachers help you to grow as a person and feed you with the knowledge necessary to lead a happy and content life.
Do Online Shia Quran teachers have worldwide access?
Shia Online Quran Center comprises of best Online Shia Quran Teachers. Those Online Shia Quran Teachers belong to various countries of the world. Which includes USA, UK, Canada, Germany and Australia. Shia Online  Quran Teacher conducts Quran classes that are accessible to Shia Quran Students all around the globe.
1. Online Shia Quran Teacher in the USA:
Shia Online Quran classes for students residing in the USA or belonging to the USA while living in any other part of the world will now have direct access to Shia Quran Teachers Online in the USA. In this way, the academy has resolved the issue of language or accent barriers for US students. And arranged for them highly qualified teachers who are proficient in Islam as well as English language. Since students living in America do not know Urdu or know but cannot speak Urdu, teachers who know English can easily tell them how they can get religious education.
2. Online Shia Quran Teacher in the UK:
Teachers must have language skills otherwise the teacher will never be able to convey his message to the students. And the most spoken language in the world is English. Students in London only speak English. Therefore, students who understand British English can take advantage of the opportunity to get full online Shia Quran lessons from skilled Shia Quran Teachers Online in the UK.
3. Online Shia Quran Teacher in Canada:
Canada is a country where many people are settled from Pakistan and India, the majority of people from Pakistan and India speak Urdu or know Urdu. And they need a teacher who knows English as well as Urdu. Canadian Shia students can access Online Shia Quran Teachers in Canada as per their feasibility.
4. Online Shia Quran Teacher in Australia:
The facility of Online Shia Quran Classes is also available for Australian students. Shia Quran teachers in Australia in available online, well trained to teach Australian students or Australian students living in another country. Because our teachers are proficient in Urdu language as well as English language and have so much experience that they mingle with English children so much that they get their education easily.
5. Online Shia Quran Teacher in Germany:
German is a tough language and teaching Quran with Translation and Quran Tafseer is quite a difficult task. Online Shia Quran Academy has Shia Quran Teachers Online in Germany to accommodate German Shia Quran students and also to learn Quran Translation in English.
How can you benefit from our Shia Teachers without life imprisonment?
Hazrat Muhammad (pbuh) said: Acquiring knowledge is obligatory on every man and woman. Below this hadith our Online Shia Quran Academy believes in the motto "education for all". Regardless of Gender and age group, Online Shia Quran Teachers teach every student with full sincerity and devotion. Because of hard work and no compromise over quality and authenticity, the policy of Shia Online Quran Center, no competitor can surpass this well-reputed online institution.
Our Center highly qualified Shia Quran Teachers are experts in teaching Kids and Adults:
Parents who were worried about their children's Quran education while living in non-Muslim majority states can rely on Shia Quran Teachers for Kids, without any hesitation. The Academy helps its students to complete Yassarnal Quran, proper tajweed, Shia tafseer of Quran and Shia Quran memorization course with full responsibility. This online institution has hired Shia Quran Teachers for Adults who have fine training to deal with adult Quran Students. They help them to eradicate their ambiguities by replying to them in interactive sessions. The teachers give satisfactory answers to the difficult queries of their students regarding any matter including Translation, Tafseer, etc.