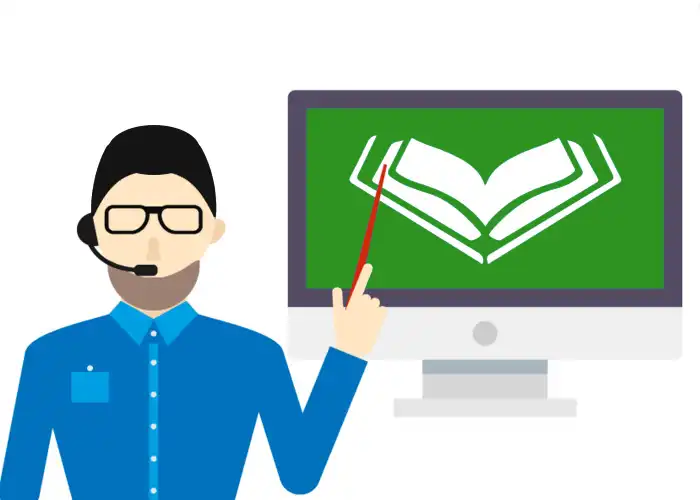 Any Educational System has a few essentials which are a proper institution, curriculum, students, and most importantly the Teachers. A good teacher can carve the thought process of his students. Islam has stressed the importance of teachers. Moreover, the rank of a teacher is equal to those of the parents. Therefore, respect for teachers is an essential requirement for being a good human being belonging to a civilized society. Expert Shia Male Quran Teachers are available online for kids as well as for adults on the application of Imamia Quran Academy. Undoubtedly, Islam has declared teaching as a noble profession. Holy Prophet Muhammad (pbuh) said in a Hadith:
"Behold! My Lord commanded me that I should teach you that which you do not know and that which he has taught me today." 
Ameerul Momineen Hazrat Ali a.s himself said:
"He who taught me a word made me his slave."
What is the position of the Teacher in the Quran and hadiths:
Quran has provided us with a set of rules and a code of conduct. But, Holy Prophet (pbuh) depicted how Muslims will follow those rules and obey the orders of Allah Almighty. Islam as a religion and Holy Prophet (pbuh) as its custodian have laid huge stress over the importance of Quran education. Holy Prophet narrated in another Hadith that Allah sent him as a teacher. Allah sent him to teach us the true teachings of the Holy Quran. In Surah Al-Jumuah it is written that:
"It is He who sent among the unlettered a Messenger from themselves reciting to them His verses and purifying them and teaching them the Book and wisdom although they were before in clear error"
As Shia, we should prefer only Shia Male Quran Teacher for our kid's education:
Shia Male Quran Teacher is a necessity for Shia students. Our Online Quran Academy has hired online Shia male teachers for our students. We employ Shia male Quran teachers in our institution who have master's degree in Islamic studies to teach the children along with their beliefs and spirituality. Our male teachers are experts in teaching Shia children as well as elders because elders have to work harder than children. Our mail teachers organize their class in such a way that they teach the first 20 minutes of Holy Quran and 10 minutes of theology lessons in which you can learn ablution, prayer issues, beliefs and history.
How can Shia people worldwide benefit from our online Shia male Quran teachers?
Imamia Quran Center believes in the importance of a good teacher and has eminent Online Shia Male Quran Teachers. The highly qualified and certified Male Quran Teacher Online staff of Quran Online academy is proof that this institution does not compromise on the quality of Quran education and authenticity of knowledge forwarded here. Markedly, Academy has hired Online Shia Male Quran Teachers from around the world to impart wisdom and benefit the students.
How Shia Male Quran Teacher plays a role in the education of Kids and Adults?
Our Teachers are reliable and highly qualified to, benefit all Quran Students. From teaching Yassarnal Quran (Qaida) to kids or beginners to teaching  Tajweed and Tafseer Quran to adults, all teachers are well versed. All teachers are highly devoted and sincere to their noble profession of teaching. Additionally, all of them have strong command over Quran education and are reliable educationists. Shia Male Quran Teachers for Kids are highly professional and well-trained to deal with kids.
Similarly, Shia male Quran teachers for Adults work with all adults, male and female students from different cultural backgrounds and ethnicity. Moreover, in the academy, there is a completely impartial method of teaching. In addition to that, every student has the utmost attention of teachers.
How do our Shia teachers play an important role in the teaching of the Quran despite the fact that the students are from different countries?
The Shia Male Quran Teaching staff belongs to various countries including the UK, USA, Canada, etc. They teach students in their native language and in a manner most suitable for them to understand. Teachers here are interactive and easily approachable. Students can engage with teachers as per their feasibility. Shia Male Quran Teachers in the USA, the UK, Australia, and Canada are available for Online Quran classes.